FAQS. Frequently Asked Questions
We have listed the most common queries we have received. Click on the question to display the answer.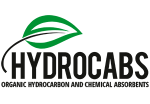 HYDROCARBON AND CHEMICAL ABSORBENTS
What is "Hydrocabs"?
It is a hydrocarbon, oil and chemical organic absorbent, capable of repelling water.
How is "Hydrocabs" sold?
In 1 kg., 8 kg bags, in 50 kg Big Bags, in 3 m x 7 cm in diameter booms and in 3 m x 18 cm in diameter booms with or without drag nets.
How much does it absorb?
"Hydrocabs" is able to absorb 10/12 times its weight.
What does it absorb?
Paraffinic oils. Dinitrotoluene. Kerosene. Motor oil. Styrene Methanol. Acids Bases. Ethanol. Nitrobenzene. Acetate. Petroleum ether. Pentane Acetone. Ethyl ether. Petroleum. Acetonitrile. Ethylbenzene. Pyridine. Benzene. Ethylene glycol. Propanol. Bromodichloromethane. Diesel Oil. Organic Solvents. Bunker C. Heptane. Tetrachloroethane. Butanol. Hexane Tetrachlorethylene. Butyl. Hexachlorobenzene. Tinctures. Cyclohexane. Hexachlorobutadiene. Toluene. Chloroform. Hexachloroethane. Trichlorethylene. Dichlorobenzene. Hexane. Vinyl. 1-2 Dichloroethane. Isobutanol. Xylene. 1-1 Dichloroethylene. Isoprene. Dichloromethane. Isopropanol.
How long does absorption take?
PETROL or GASOLINE: 2 seconds. DIESEL– OIL 5 seconds. ENGINE or MOTOR OIL: 20 seconds. BLOOD: 30 seconds. LIGHT RAW OIL: 60 seconds. HEAVY RAW OIL: 90 seconds. GASOLINE: 2 seconds
What advantages does it have?
It is non-toxic, biodegradable, hydrophobic and it is a 100 percent Natural product.
Where is Turbera Austral?
Hydrocabs is produced in Tierra del Fuego and has branches in Rincon de los Sauces, Añelo, Centenario (Province of Neuquén), and in Bahía Blanca (Province of Buenos Aires).
It is located in Bahía Blanca, Buenos Aires. Argentina
Is it exported?
Yes. "Hydrocabs" is exported to all countries that have a commercial relationship with Argentina. Minimum orders: one container.
Where is it exported from?
From the Port of Bahía Blanca (Buenos Aires, Argentina).
Do you make customized products?
"Hydrocabs" makes customized orders, such as hoses and / or organic oleophilic pads.
How can I request more information?
CONTACT FORM
Please complete all fields.